Persona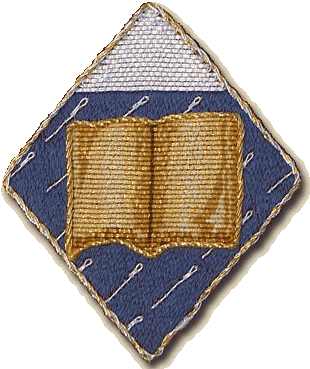 Dame Joan Silvertoppe is a gentry woman who hails from England during the early half of the 16th century. She spends her days running her estate with her husband, growing her children, and trying not to kill her garden. She enjoys spending time with friends, sewing clothing for her family with the help of her tailor Brother Janome, and spending some free time with her embroidery, her letters, and collecting a library of tomes for further research into her many interests.
Her device is Azure semy of needles bendwise sinister argent, an open book Or and a chief argent.
Her badge is (Fieldless) A toy top argent.
Offices & Positions
Current positions are in bold.
Caid Dyers head moderator, Facebook group, March 2013 to present
Exchequer, Nordwache, 4/21/2012 to present
Lady in Waiting to Baroness Muirenn inghean Chon Ruaidh, 06/17/2012 to present
Queen's Arts & Sciences Champion - Cassandra Zoë Paganel, 02/2012 to 06/02/2012
Historic Hand Embroidery head moderator, Facebook group, August 2011 to present
SCA Garb moderator, Yahoogroups and Facebook group, 06/2011 to present
Baronial Webwright, Nordwache, 01/14/2010 to October 2013.
Lady in Waiting to Baroness Magge Shaw, 08/22/2009 to 06/18/2011
Deputy Exchequer, Nordwache, 05/14/2007 to 4/21/2012
Awards
http://www.kimiko1.com
Entire website, graphics, and text (unless otherwise stated)
© 2003-2013 Kimiko Small, All Rights Reserved