Embroidery Started: April 20, 2011
Embroidery Completed: February 3, 2012
Final dimensions: about 9.25" x 7" including plain border.
Total hours worked on embroidery: approx. 225 hours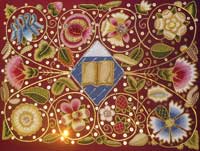 Winning entry for Caid's first A&S Champion at the Festival of the Rose and Olde-Tymers Tourney, for Queen Cassandra, on February 11, 2012.
This is an embroidered future casket cover, based on an extant embroidered book cover. The book for the original is "Biblia Sacra and the whole book of Psalmes", published in London in 1587. The bookbinding's embroidery seems to be of the style of the late 16th to early 17th century, but it was roughly dated to c.1630. I felt the design seemed more in keeping with the earlier date of 1587 with its simple gold vine execution, which is why I chose to recreate this piece.
In this instance I have a full writeup of my documentation, along with a few photos that helped to visually explain some of the steps I took in creating this piece. In order to keep file sizes low, I've placed the files here in individual pages for download. I also have my blog entries located under this tag.
I hope to have a photo album of the entire process soon.